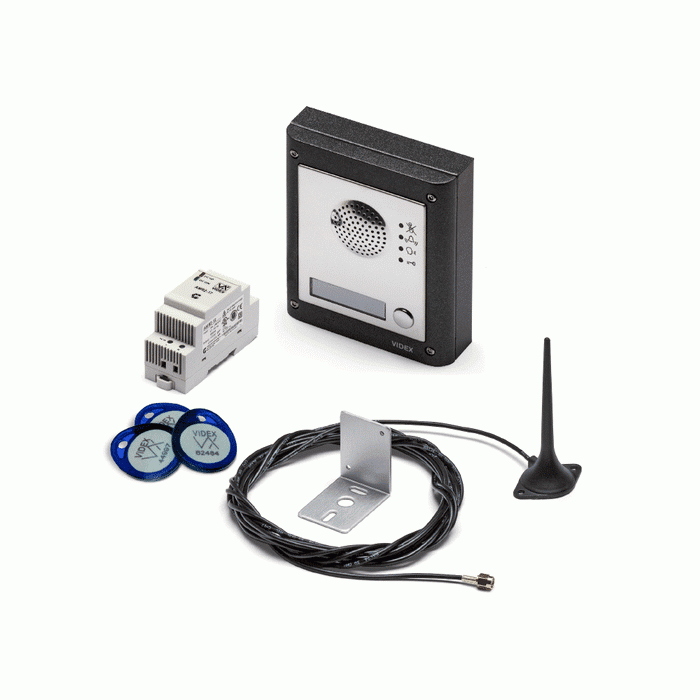 KIT
Con la tecnologia GSM hai più libertà.
Rispondi alle chiamate in arrivo verso l'ingresso o al cancello d'entrata da qualsiasi numero di telefono, compreso il tuo cellulare, in modo da non dover mai perdere nessuna chiamata importante.
L'utilizzo della tecnologia mobile, è possibile laddove non si possono cablare fili, e permette di coprire distanze illimitate (con copertura rete GSM) e di attivare in remoto l'apertura di cancelli, portoni ecc.
Il modulo GSM è disponibile in versione tradizionale, con interfaccia a pulsanti o in versione digitale con pannello alfa-numerico digitale. Perché il sistema funzioni correttamente è sufficiente avere copertura di rete, un alimentatore 12Vdc e un'antenna GSM.
Il portiere GSM, tradizionale o digitale, può essere combinato con gli altri moduli Serie 4000 per avere un accesso tramite codice, tramite chiave di prossimità o impronta. Il modulo GSM tradizionale con interfaccia a pulsanti permette di collegare fino a 50 pulsanti di chiamata, mentre quello digitale consente di gestire fino a 100 utenti/chiamate. Entrambe le versioni hanno memorizzano numeri "dial in to open" (chiama per aprire) permettendo ad uno o più utenti di chiamare per attivare il relè del portiere senza avere costi di chiamata (max 250 numeri per numeri per il modulo tradizionale e max 1000 per il pannello digitale).
La programmazione dei moduli GSM può avvenire tramite SMS o tramite PC attraverso interfaccia USB. Tra le funzioni programmabili troviamo, il numero di telefono da chiamare, il numero alternativo, il tempo di attivazione del relè apri-porta, il tempo di chiamata, il volume microfono, il volume altoparlante e una serie di altre funzioni. I moduli GSM inoltre, sono dotati di ingresso push to exit" (premi per uscire) ed ingressi/uscite ausiliarie che fanno capo a relè a contatti puliti.